The students' afternoons are filled with a busy programme of sporting activities, trips and visits. This includes a full-day trip each week. Students will normally visit London at least once during their stay.
A full leisure and cultural sports programme in the afternoons and on Saturdays that includes trips to London and historic Canterbury with its famous cathedral. All entrance fees and transport costs are included.
The social programme is organised and run by native-speaker social assistants who make sure that the students enjoy themselves as well as taking the opportunity to see this beautiful area of England.

The students also receive, as part of the programme, a Gold Megarider buspass which allows them to travel throughout Kent free of charge during their stay.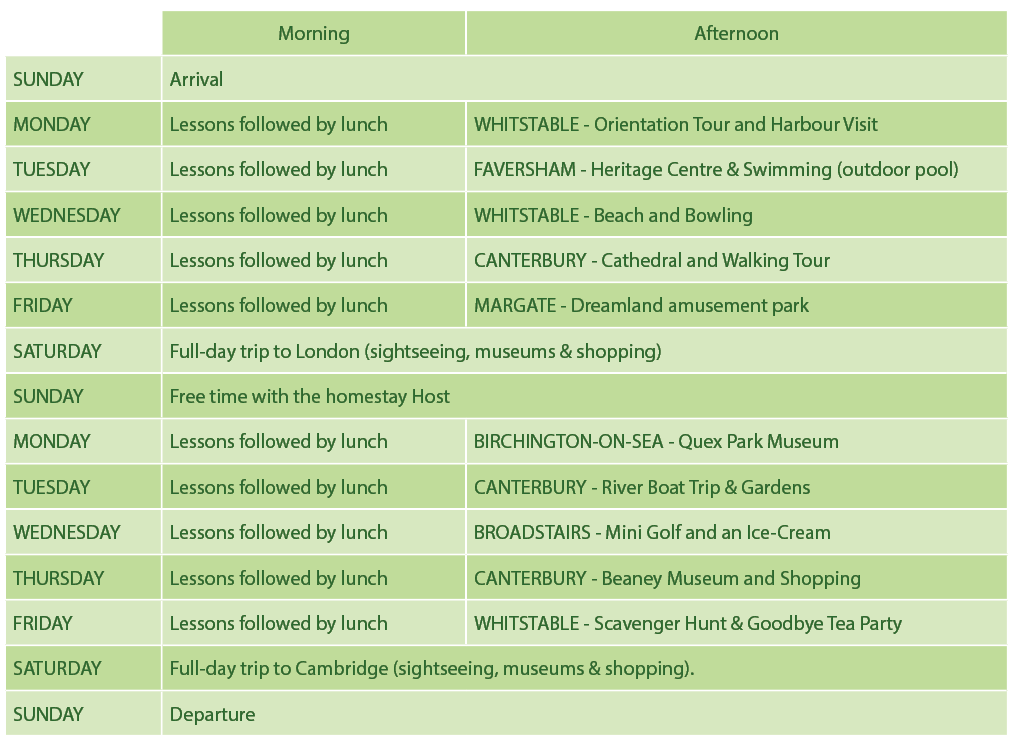 > click here to view a typical London trip

Testimonials:

'The teacher was perfect!'
Julie, 16, France
'The lessons and activities were all a lot of fun and very interesting'
Ludovica, 14, Italy
'It was like I imagined. It was a good experience and I have learnt English. I want to return here!'
Monica, 17, Spain
'Kind, lovely host family, I really appreciate them. I recommend them to everyone, like a second family. Accommodation and lessons were very good, I really appreciated them. I also love the two activity leaders'
Mattia, 16, Italy